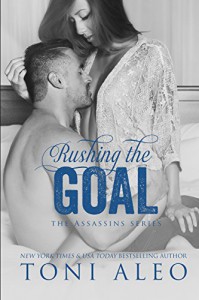 I've wanted Lucy Sinclair to get her own book since we first met the Sinclair family. I knew after everything her ex-husband had put her through, and the fact that she had a child, it was going to take a special man to get Lucy to accept him in their lives. Benji Paxton is just the man to take on both Lucy and her daughter Angie and never look back.
I absolutely loved Benji so very much. I'd missed meeting him in Overtime, as I somehow skipped it, and I loved that Ms. Aleo completed filled us in on his background. I found Benji to be such a strong, sweet, determined and sexy character. He also was absolutely amazing with Angie and I'm pretty sure I fell in love with him right along with Lucy and Angie.
Lucy honestly can best be described as a ball-buster, yet there really is so much more. After learning more about her past with her ex-husband and seeing how her dad leaving the family affected her, I totally got her putting on such a strong front. She will do anything on earth to protect Angie and those people she loves. I loved the instant attraction between Lucy and Benji and totally got her being so very hesitant to move forward with anything, but was so glad Benji made sure he stayed in the picture.
I'll be honest and say I absolutely wanted to kick Lucy's ex-husband in his junk more than once when he was around both Lucy and Angie. I don't think I've ever hated a character so much in any book. I was so happy that Lucy and Angie had won the lottery with great guys when Benji entered their lives. I really loved how sweet he was with Angie. I also loved the sweet moments between Benji and Lucy. He made my heart melt over and over again with the little things he did to show his love.
The chemistry between Lucy and Benji was obvious from the first moment they met and I absolutely loved they had to fight to keep their hands off each other. I loved how much they wanted each other whether in a sweet slow love making scene or up against the wall can't get enough of each other scene. Lucy and Benji made me fall in love with them as a couple.
Rushing the Goal was such a fun and sexy read. I fall in love with each couple in all of Ms. Aleo's books, and it was no different with Lucy and Benji. While I'm sad this is the last book that will focus on the Sinclair clan, I absolutely loved seeing Lucy finally find a man worthy of her love.
Review copy provided by publisher